Torcán Live at Fota House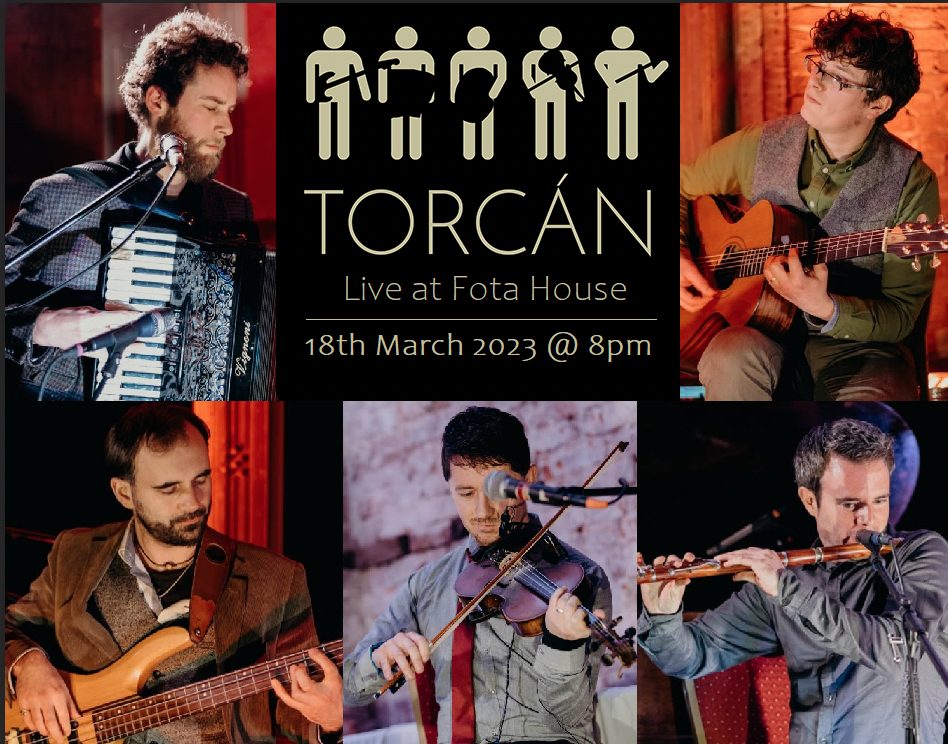 Torcán (Tur-KAWN: Irish: "Little Boar") is a five-piece new-style trad band based in
Cork City with its roots in the UCC Capriccio Society of the mid-2000s. Led by three-time All-Ireland medalist Jason Turk on piano accordion, Torcán members Robin Turk, Seán Murphy, Brian Leach and, All-Ireland bodhrán champion Karl Nesbitt, create a rich and complex sound.
Torcán has graced such stages as Cork Opera House, Royal Hospital Kilmainham,
the Aula Maxima, Fota House, Triskel Arts Centre, Village Arts Centre Kilworth,
Townlands Carnival, Karagoz Folk Dance Festival in Turkey, IMRO Trad Music
Showcase at the Temple Bar TradFest, Culture Nights in Cork at the English Market,
and several Fleadhanna Ceoil.
Inspired by the musical styles of Cajun, Scandinavian, classical, dance, country, and
rock genres, Torcán expands upon the melodies of traditional Irish music, as well as
performing original compositions.
Video and audio recordings are available on YouTube, iTunes, SoundCloud and
Spotify.
Torcán band members:
Jason Turk (piano accordion, low whistle, piano)
Robin Turk (guitar)
Seán Murphy (fiddle)
Brian Leach (bass)
Karl Nesbitt (bodhrán, flute)